Fabric Painting TTT (Tips, Tricks &Techniques)
Try fabric painting, it's not that difficult. Design, paint and wear something totally original – that sounds creative! Fabrics are literally the best canvas to create on. With fabric painting, you are the artist and the textile designer. You will be surprised at how easy it is to design something unique with fabric painting.
FABRIC PAINTING
How do you get the best results with fabric painting?
Learn how to set up your painting area.
Have the right tools for the job.
Buy the right fabrics for success.
Start with simple stencils or print techniques.
Move onto more advanced ideas if you want to experiment.
SETTING UP YOUR FABRIC PAINTING AREA
A flat surface is one of the most important setup requirements. Depending on your home environment it could be the dining room table or a kitchen counter. Perhaps you are lucky enough to have a workroom where you can set up.
Always have scraps of fabric to try out whatever you plan to do. Follow instructions on the paint you buy and try these out on a scrap too. Test your scrap for colorfastness and bleeding as well as you follow the directions from beginning to end.
Cover the area with plastic. Paint can be messy. Have water, brushes, mixing palette and cloths available. Different techniques may require different utensils. Once the fabric is ready, cover a piece of cardboard in plastic to insert in a t-shirt or dress to prevent the paint seeping through and spoiling the other side of the garment.
RIGHT TOOLS FOR FABRIC PAINTING
Generally speaking, fabric painting requires these basic tools.
Fabric for Fabric Painting
It is very important to choose 100% cotton or natural fiber fabrics. Silk and linen paint up well, but are more difficult to use. Canvas fabric is generally too thick for clothing, but works well in upholstery and furnishings. To save money, consider old cotton bedsheets which can be cut up.
The second most important thing is pre-washing. New fabric has starch additives and they will interfere with the absorption of the fabric paint. Pre-wash fabrics and iron to give a smooth surface to work on.
When fabric painting, light colors or white fabrics are easier to work on.
Ready-made scarves, cushions, drapes, T-shirts, wall hangings, table linen, pillowcases and clothing all make great DIY options.
Brushes for Fabric Painting
Any sized brush can be used for fabric painting but here are some useful ones to have in your kit. Consider purchasing a bundle set to save money and always wash them well after use to prolong their life.
Round tips in a small size for fine detail and a bigger round tip brush for filling in wider details.
Flat tips used for shading and blending.
Liner brush for lines.
Foam or sponge brushes with a wooden handle are useful for painting for larger areas.
Fabric Markers
Fabric pens (or permanent pens) used for outlining and drawing. Outlines then can be filled with paint.
I regularly use the Faber Castell brand fabric markers to draw faces on fabric. Just read the instructions as you often need to press the ink to set it before washing. I find if I forget to heat set the ink that it tends to bleed a little.
Fabric Paints
The best paint to use for fabric painting is acrylic fabric paint or textile paint. These are specially designed to paint on fabric and to withstand washing.
Additives
You can add a clear fabric medium to regular acrylic paint. This adds flexibility to the paint and increases your choice of colors. The fabric medium helps to dilute the paint and causes less 'bleeding' or spreading into the fabric.
Paint Colors
When choosing your colors start with the primary colors red, blue, and yellow. Include black and white as your basic kit.
Use your primaries to make secondary colors and your black and white to create shades of color. Keep airtight jars to save paint that is not used. Build up your color palette with more colors as you grow more confident and proficient.
Paint Effects
Consider whether you want to have an opaque or transparent look to your paints. Extra water added to the paint on a ratio of 5:1 creates a watercolor paint effect. For darker fabric colors you will need much more opaque paints for the color to show up.
Different mediums create different effects like transparent mediums, puffy paint mediums and matt mediums.
When you are starting out fabric painting, consider purchasing a set with different colors.
Setting your Paint
Read the instructions on the paint pot before you start and do a test on one of your fabric swatches. Many paints need to be heat set with your iron before washing to prevent them from bleeding. You may also need to wait 24 hours before washing.
Embroidery Hoops
Embroidery hoops are useful for when you are painting smaller areas. It will hold the fabric tight and make it easier to do delicate designs. For larger areas, you can let the painting in the hoop dry overnight and then move it to another area.

Optional Tools
Stamps, store-bought or make you own from woodblocks or potato cut-outs.
Stencils to create unique designs or repeat patterns.
Dip pens and airbrushing are optional extras for different effects used for fabric painting.
FABRIC PAINTING DESIGNS
If you are not good at drawing, start with simple designs using stencils or by tracing and existing design with a lightbox.
For a dramatic look, use fabric marking pens to outline your design first. Paint directly onto the fabric as you would if painting onto a canvas or piece of paper.
ADVANCED FABRIC PAINTING

Spray Painting
- Fill a spray bottle with fabric paint. Attach a stencil to your fabric before you start to spray into for the design.
You can also place a solid design on the fabric and spray the background in order to create a silhouette image of the shape you used.
If you will be spray painting regularly, then consider purchasing an artist spray paint gun for a finer and more controllable spray.
Stamping
- Stamps can be used to create patterns and repetition. Stamps can be store-bought or make you own. Potatoes cut in half and then cut into shapes or designs work very well. Simple designs often look the most modern and trendy.
Dot painting
- is a popular technique that can be applied to the fabric. Simply use a stick, top of a pencil or earbud to make a series of small dots.
Outline Painting -
Outline a traced image or directly draw on the fabric with one of the fabric marker pens.
To easily transfer images for fabric painting, use a lightbox to reflect under the fabric with a picture or pattern in between. For a free solution, hold your paper image up on the window and put your fabric on top to trace. When the sun is shining through the window, this is a really easy way to trace. You will get a sore hand though from drawing upright so use this for simple designs.
Your outlines don't necessarily need to be black. You could also use puff paint to add a 3-dimensional look to the design. Pictures from children's coloring books or embroidery designs are great sources of designs and pictures to trace for fabric painting.
Finger Fabric Painting
- Fingers make a great applicator of paint. Fingers can dot, blend and smear the paint onto the fabric. This is a great holiday project for kids to put on T-shirts.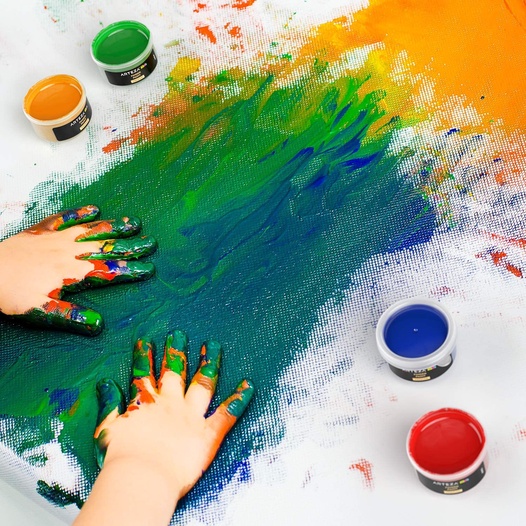 Fabric Painting with Salt
- Sprinkling salt onto the wet paint has the effect of drying out the paint differently. The paint looks faded and blended by the different effects of the salt as it absorbs the paint. Once the paint is dry you brush off the salt and enjoy the different effects.
Watercolor Fabric Painting - Wet the fabric before you paint and use watery fabric paint for a very soft watercolor effect. There is little control over this effect and lines of the design just serve as a guide as the paint will run and blend without too much control. This may be just the delicate effect you are looking for on a scarf.
Stencil Fabric Painting
- Stencil patterns can be drawn around and painted. Sponging in the cut-out section of the stencil gives a great effect and is an easy technique for people that can't draw.
Stencils can be the guide or outline for different fabric painting techniques. Splatter painting, sponging, block painting and dot art all lend themselves to placing color in part of the stencil.
Batik Fabric Painting
- Painting wax onto the fabric in certain areas and then crackling the wax results in a batik effect. This technique is for the adventurous fabric painter because after the crackle effect the wax has to be removed.
The best way is to iron it out by placing the fabric between layers of newspaper and ironing to make the wax melt and be absorbed by the paper until there is no wax left on the fabric. Then the fabric painting can be washed to remove any further evidence of wax.
Well, there you have it. Fabric painting in so many ways.
Website @
www.amritaparyani.art
Facebook Page @
www.facebook.com/AmritaParyani.ART
Instagram @
www.instagram.com/amritaparyani.art
Twitter @
www.twitter.com/amritaparyani
Youtube @
https://www.youtube.com/channel/UC4WVGuXSpVKRCRcMZQmxQXQ